Love the GoBe sleeves! They fit perfectly over the tray tables and
eliminate the need for sanitizer wipes. Functional and great looking! Everyone around us on the plane wanted to know where they came from!
Sue B
Traveling with 2 small kiddos has challenges of its own, but germs were one thing I didn't have to worry about. My kids were able to play, eat, and watch TV all while keeping clean on our recent flight abroad. Plus, the designs are so cute!
Suzanne M
This was such a great idea, thank you for bringing this to us! Feel so much better using this while traveling by plane. It is lightweight, simple to use and easy to bring, we use this EVERY time we fly and feel so much safer.
Carolyn B
We purchased these tray covers in a two pack with a custom company logo to give to our clients to thank them for choosing Exclusive Global Travel as their travel consultants. They are beautiful and make a perfect gift for travelers. The company was extremely responsive and flexible in working on our design. Production was swift and delivery as promised. What a find!
Frank and Betty Villani
Eat, work, watch and relax with confidence
The advanced antimicrobial technology embedded in every Go-Be sleeve inhibits the growth of microorganisms on the fabric so you and your family can confidently embrace the space where you eat, work, watch and play -- and ensure you're not taking the germs home with you!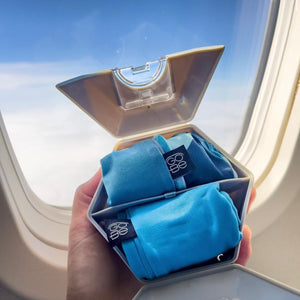 Say good-bye to harmful single-use wipes
Our reusable airplane tray covers are the eco-friendly alternative to the millions of single-use disinfectant wipes heading to landfills and oceans every day. And unlike many wipes, our covers don't contain any harsh chemicals and toxic fragrances. Go-Be's antimicrobial technology is non-toxic and non-irritating, which means they are safe for you and the planet, too!
Simple to wash
Our sleeves can be hand-washed or thrown right in the washing machine -- and dry in minutes -- so you'll always be ready for your next flight! And since reusing is our goal, we make sure every Go-Be sleeve is 3rd-party tested to ensure the quality of its advanced antimicrobial technology and that it's 100% effective for 25 washes!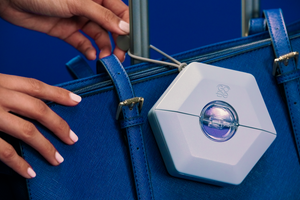 Easy to carry
Our patented honeycomb case clips securely onto any carry-on and weighs only 3 ounces! It's also dishwasher-safe and 100% recyclable.
See Go-Be in action!
Just slip your Go-Be sleeve over your tray table to help protect against any dirt, grime, germs and viruses lurking on and under your tray. Then roll it back up and store it in our lightweight honeycomb case and clip it onto your carry-on.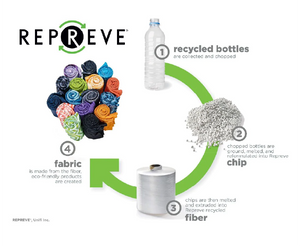 Made from BPA-free plastic waste
Each cover is specially made from Repreve, a recycled high-performance fiber created out of BPA-free plastic gathered from landfills and oceans. At Go-Be, we believe in breathing new life into yesterday's waste.